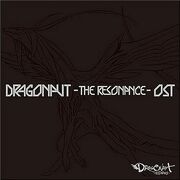 The Dragonaut -The Resonance- OST was released on March 19, 2008. Apart from the theme songs of the anime series, the tracks were composed by Kousuke Yamashita.
Track list
Edit
Perfect blue (TV size)
Rain Of Love (TV size)
FIGHT OR FLIGHT (TV size)
Force of Mind ~Dragonaut The Resonance~ Main Theme
Tomo to, Kazoku to
Ankoku no Kanata de
Shin Ogasawara no Kaze
Yochou
Houkouu Kimochi
Kyuushuu
Dragon no Nazo
Omokage
Resonance
Kouhai Shita Machiku
Jiko no Kioku
Choujin Teki Battle
Deai no Toki
Hime Goto
Surechigai
Nouri no Hazama de
Jin to Toa
ISDA Shutsudou
Rinkaiten Toppa!
Toa no Shinjitsu
Semaru Kyouteki
Dragonaut-tai Shutsugeki
Sakerarenu Tatakai
To A
Omoki Shukumei
Anyaku
Ikidoori
Widow to Piano to
Heki Shoku no Hoshi
Meguru Inbou
Ryoku no Kagiri
Shutsugeki!
Kokoro Kasanete
Kibou wo Takushite
Machi Nite
Yorisou Kokoro
Moero! Howling Star
Kyouki
Hidamari
Tama ni wa Tanoshii Kibun de
Hustle!
Ochame na Jikan
Toraware no Dragonaut
Baumgard Ka
Hitori
Aegis Hatsudou
Sasaki no Sakubou
Koibito Hiyori
Kunou
Aisuru Hito
Kakusei
Fureai
Tomodachi
Meiun wo Kake
Thanatos
Kessen
Tokkou
Arigatou
DRAGONAUT THE RESONANCE PV You BGM
Rain Of Love intro ~happy ver.~
Rain Of Love intro ~brave ver.~
Rain Of Love intro ~strained ver.~
Rain Of Love intro ~sad ver.~
FIGHT OR FLIGHT intro ~happy ver.~
FIGHT OR FLIGHT intro ~brave ver.~
FIGHT OR FLIGHT intro ~strained ver.~
FIGHT OR FLIGHT intro ~sad ver.~
Ad blocker interference detected!
Wikia is a free-to-use site that makes money from advertising. We have a modified experience for viewers using ad blockers

Wikia is not accessible if you've made further modifications. Remove the custom ad blocker rule(s) and the page will load as expected.